Payroll can be easy as pie!
✅ Enter hours or Salary
✅ Have recurring deductions set up, or one-time deductions
✅ We check the taxes
✅ You look at the Payroll Preview report and ok for processing
✅ We send you the final reports
✅ We file your taxes, upload 401k reports, send direct deposits
Easy as pie, and who doesn't love pie! LOL
Processing Payroll
✅Employee information

✅Variable pay rates

✅Deductions set up as recurring or one-time

✅Vendor checks created for Child support, Garnishments, and other deductions

✅Direct deposits with multiple banks

✅Pay cards for employees with no bank

✅HSA's

✅Tax withholding

✅Sick and Vacation Accruals

✅Employee Self Service with access to stubs and W2's

✅HR with tasks settings, property tracking, reviews, education tracking, and performance management
Payroll Reports
Just to mention a few of the many reports our software provides, these are the ones used most often:
✅ Payroll Summary

✅Payroll Detail

✅Check Register

✅ Payroll Expense Summary

✅Direct Deposit Summary

✅Deduction Detail

✅Employee Anniversary List

✅Employee change tracking

✅Labor Distribution

✅Cost Report specialized for Nursing Home budgets

✅Time Sheets


Abacus Easy Pay
We are happy to announce Abacus Easy Pay, a wages on demand service from Multikrd. Many employers have been looking for ways to attract new employees and keep their current employees happy.

Why Abacus Easy Pay?
>Instant Wage Access with one of the lowest transaction fees in the market. (this is not a loan, it is an advance on their worked hours)

>Free membership for employees to access cash back, discounts and special promotions that are geo-targeted for local promotions also.

>Only cash back savings promoter that also offers wage access on demand.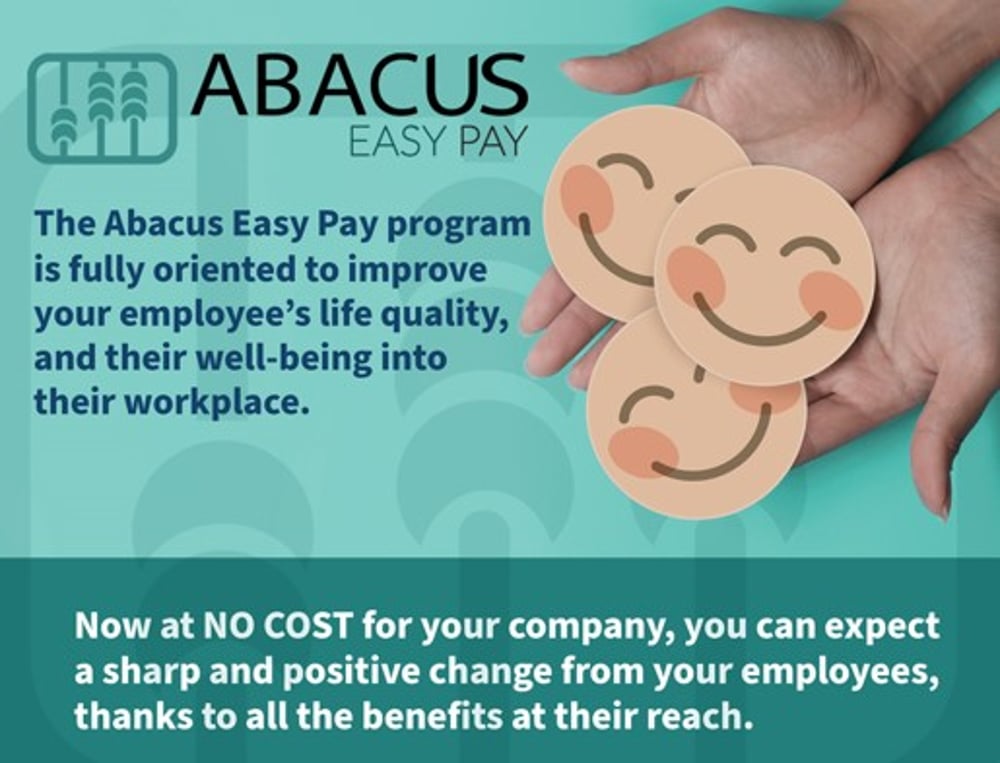 E-Comp
National Pay-As-You-Go Workers' Compensation
Click below for a quote or link to a video explaining what E-COMP does.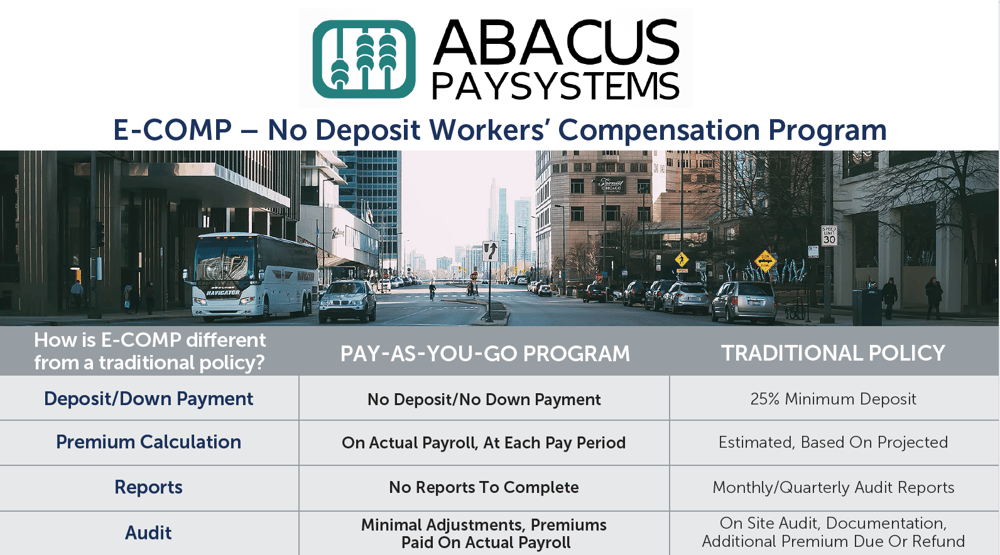 New Partner: Verified First
As you know, we select industry partners we feel will best support your workflow. That's why we are thrilled to announce our partnership with Verified First!

Not only does this partner offer a range of digitized services, including background checks, drug screening, employment/education verifications, and I9/eVerify, their patented solution:
-Streamlines the hiring process
-Reduces data entry
-Increases compliance
-Retention of quality employees

If you're interested in learning more about our partners, Click Here.